The 2016 Dragon Edinburgh Cup, supported by Gwynedd Council and the 'Wales 2016 Year of Adventure – Snowdonia Mountains & Coast', got off to a fantastic start in Abersoch with two races in a 12-18 knot northerly wind and plenty of sunshine. The South Caernarvonshire Yacht Club's race committee did an excellent job with the courses in the shifty offshore breeze and the 35 strong fleet made the most of the opportunity for some great racing.
Fresh from his victory at the Dragon Northern Championship Lawrie Smith, sailing GBR801 Alfie with Joost Houweling and Adam Bowers, took off from the first start like a scalded cat and led the fleet comfortably at the weather mark. Behind him Gavia Wilkinson-Cox sailing GBR761 with Tim Tavinor and Mark Hart, and Martin Byrne sailing IRL201 Jaguar with Donal Small and Adam Winkelmann, were in hot pursuit with the rest of the pack hard on their heels.  Smith looked to have the race under control until the second two mile beat when Wilkinson-Cox made good use of the shifts to pull right back onto his transom.

Byrne meanwhile was sailing a conservative and very smart race to hold the pack at bay whilst at the same time staying in close touch with the leaders. As the boats approached the bottom of the final run Smith and Wilkinson-Cox were neck and neck, but Smith had the inside track as they made the final turn into the hook finish. Wilkinson-Cox gave it her all and pushed to weather on the final short close reach gaining ground all the way, but Smith had no intention of letting her through and claimed first blood in what promises to be a fantastic edition of this classic event.  Wilkinson-Cox was followed in by Byrne with Rob Campbell sailing Quicksilver VI with Luke Malissa and Paul Fletcher finishing fourth and leading the Corinthian fleet home.
The wind had dropped a little to 12-14 knots, but was even more shifty for race two so the committee shortened the leg length down to 1.5 miles. This time it was Grant Gordon, sailing GBR780 with Kasper Harsberg and Ruairidh Scott, who popped out at the front of the fleet with Mark Dicker, Selina Dicker and James Campbell in GBR610 Rackham, Rob Campbell's Quicksilver and Oliver Morgan's GBR791 Christianna crewed by Francesca Morgan and Nigel Young close behind them at the first mark. Behind them Byrne, Smith and Wilkinson-Cox found themselves down in the pack and fighting for clear air.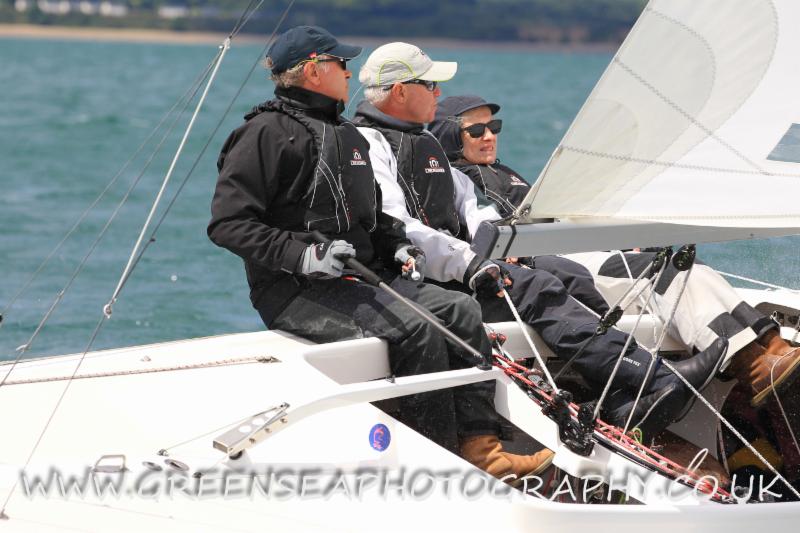 Byrne began to take places on the first run, but Smith and Wilkinson-Cox were struggling to find lanes out of the melee.  The race committee opted to run a six leg course with a third full beat to the finish and by the start of that last beat Byrne was up into second behind Gordon, but Smith and Wilkinson-Cox were still back in eighth and tenth respectively. It's a fool who counts Lawrie Smith out of a boat race until the fat lady has sung though and he sailed a blinder to leap up into third place. Clare Hogan sailing IRL206 Cloud with Mark Pettit and Brian Matthews took fourth with Paddy Atkinson, Tim Harper and Martin Farnworth sailing Neil Lamont's GBR636 Seafire in fifth.
With two of the six scheduled races completed Lawrie Smith's first and third put him into a single point lead over Martin Byrne with Grant Gordon three further points back in third place.  Gavia Wilkinson-Cox finished race two in ninth and lies in fourth place, one point ahead of Rob Campbell who leads the Corinthian Division as well as lying fifth overall, and two points ahead of Paddy Atkinson. The top ten is rounded out by Oliver Morgan seventh, Mike Budd eighth, Mark Dicker ninth and Clare Hogan tenth.

Paddy Atkinson and Seafire's performance is particularly rewarding for owner Neil Lamont who is not able to race this week. Neil suffers from Parkinson's Disease which currently prevents him from sailing and so he is using the event to promote awareness of and raise funds for Parkinson's research.  Neil has donated a stunning Charles Bell original watercolour of Dragons sailing in Abersoch Bay which will be auctioned at the Edinburgh Cup Prize Giving Dinner on Friday, and at Wednesday evening's Champagne and Canapes Party there will be a raffle for a Nebuchadnezzar of Tattinger Champagne with all proceeds going to Parkinson's Disease research.
Edinburgh Cup 2016 Day 1 Interviews
Racing continues until Friday 8 July with a total of six races scheduled and a single discard coming into play after the fourth race is completely. Two races are planned for tomorrow when the wind is expected to swing into the south-west and to build from around 12 knots at the start of the first race to the mid-teens with gusts up into the low twenties by late afternoon.

Further information, news, results and photographs from the event are available from www.edinburghcup.org and via the British Dragon Association Facebook Page or by contacting BDA Press Officer Fiona Brown on fiona.brown@fionabrown.com, +44 (0)7711 718470 or Skype fpbrown.